So I've been thinking... this Blog has kind of turned into something more for me other than just a place to post pictures for me. One it's kind of addictive and two; I can justify posting this if I include pictures every time I write.
First off, we went to see our friends new lil bubbah, he's very small and cute and I congratulate them. Here's a picture.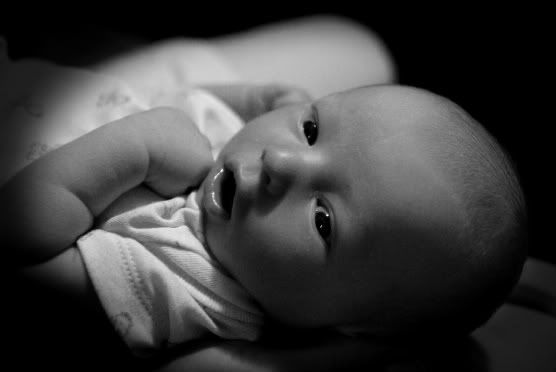 And lately, things have been good but kind of up and down.
I went out on a whim and signed a 3 yr. contract with bell. I got the Palm Pre. Which I really like, but you know who I don't like... BELL... The original phone I got from them, the camera was broken so 2 days later I went back and told them and you'd think, something like that... it wouldn't take 45-1 hour to get a new phone! I never dropped the thing, it just never worked and I tried to troubleshoot it. Palm Pre said to go back and get a new one.
So Wat the fickel Bell??
So Annoying... so today I guess I'm going to stir up some drama when I head back there to "bring it back" again... even though it's nice...ahhh
And why!? Why??? are they the cheapest and have the best "rates" and phones but have the shittiest customer service. You know, Bell, I may actually want to pay that $35 activation fee if you weren't such a bag of poop.
Okay, I may be done with that rant.
On a better Note!
I did do a smaller family shoot on Saturday Evening. I would love to post pictures but the family has requested that none be put on the Internet, and I do have to respect that.
My husband, oh my husband... I love him and support him and yes, he has a brilliantly good job that most would kill for but it's just not in his heart. I've known this since I met him and tried to tell him it before but he's never seen the light and all of a sudden yesterday he comes to me and says 'enough is enough'.
My husband is born Police officer, unfortunately he was kinda dealt the crap-card before me and never got a chance.
Fortunately for him, he's got me.
I mean, how do you go through life, going out of your way constantly to help people and sometimes, he doesn't even know why?
- for example, he was on his way to work, saw a small fire when passing by some random person's house and decided, I need to help. He stopped, grabbed a fire extinguisher and put the damn fire out! Apparently the guy who's truck was on fire was just standing there watching it burn, cause he "didn't know what to do"... now, I don't know about you, but generally most people would not stop for that.
He ALWAYS goes out of his way to Help others and not only a little bit out of his way, like even if were late for something and someone needs help he'll do it.
I'm pretty sure most wouldn't do that.
That's just one example. It's basically an everyday story of his life.
I know being a police officer's wife is not the best at times but I want to support him in whatever makes him happy and I know... Oh I know! he'll be happy helping everyone he can, even if it's nonesensical things...
Only a tiny part of me wishes he'd decided this before we bought the house and had the baby. But what can you do, I will and always will stand by him.
So finally, finally after problem and problem with his job now he's decided that there's a reason for it all, he's going to move careers. My husband, blue uniform? How can I complain...
Thirdly, I hate Bell.
LOL - sorry. but that's the FAIL in this blog. F A I L...
<3
Bella J.