I think this is funny that I'm going to post this but I found this very fun and it's going to become something that will last for years. Most photogs post helpful photography tips and info for clients, I post things about making Christmas spirits Bright. haha... well, I hope you enjoy...
Christmas is full of memories for me. Memories of being around the fireplace, sipping hot chocolate and anxiously awaiting Santa.
Every year I'd pull out my stocking, I never once thought of a wanting a new one, the one my mom made satisfied and it was made for me, as old as I was, it was special. So I knew this year that Jocelynn would need one, being her first Christmas in the world. But not some store bought one... where's the love and individuality in that?
Sure, it might be with you forever, but anyone I've had over the years between my Dad's and grandparent's places, I have no idea where they are! But.. I have my hand made stocking right down stairs, above our fireplace, getting older and more frail each year. My goal is to keep it intact it's whole life here with me.
So this is the one I made Jocelynn tonight.
And it is made from all Vintage Materials! Salvaged from my grandmother's sowing room and great grandmother's button box! I'm sure this stocking is made of materials at least 75 + years old! (now, I know, that's a little neurotic but you know, it's a Vintage stocking, from scratch!)
If you'd like to make your own stocking here's some simple steps to get the perfect touch of love this Christmas! What's Christmas without stockings anyway? This is how I created this! (look below)
1) Pick a pattern, work out the textures together then - Template it.
Cut out templates... I made a cozy fleece liner for the inside, the Vintage cloth on the outside.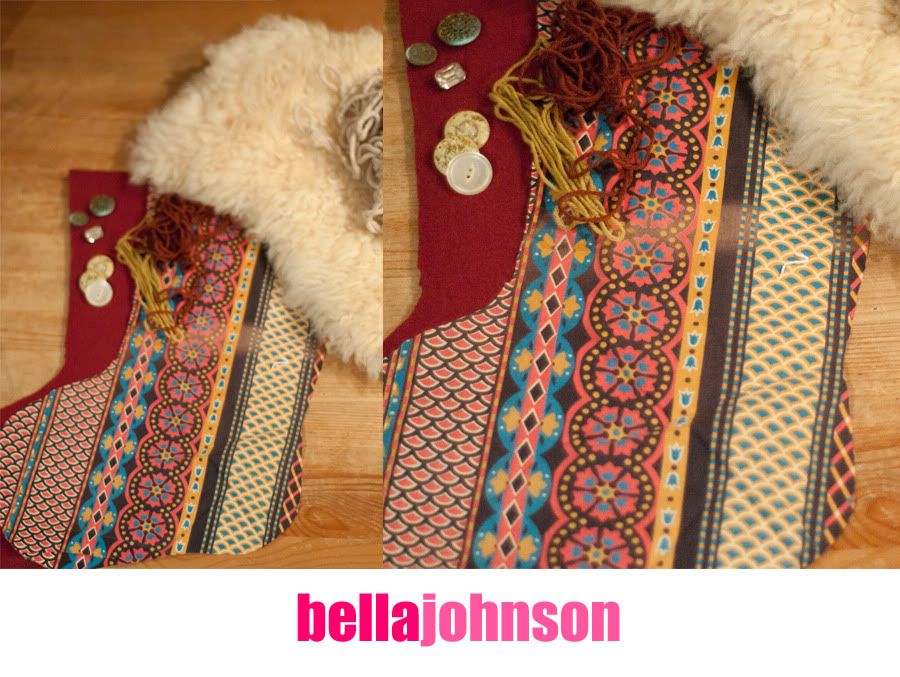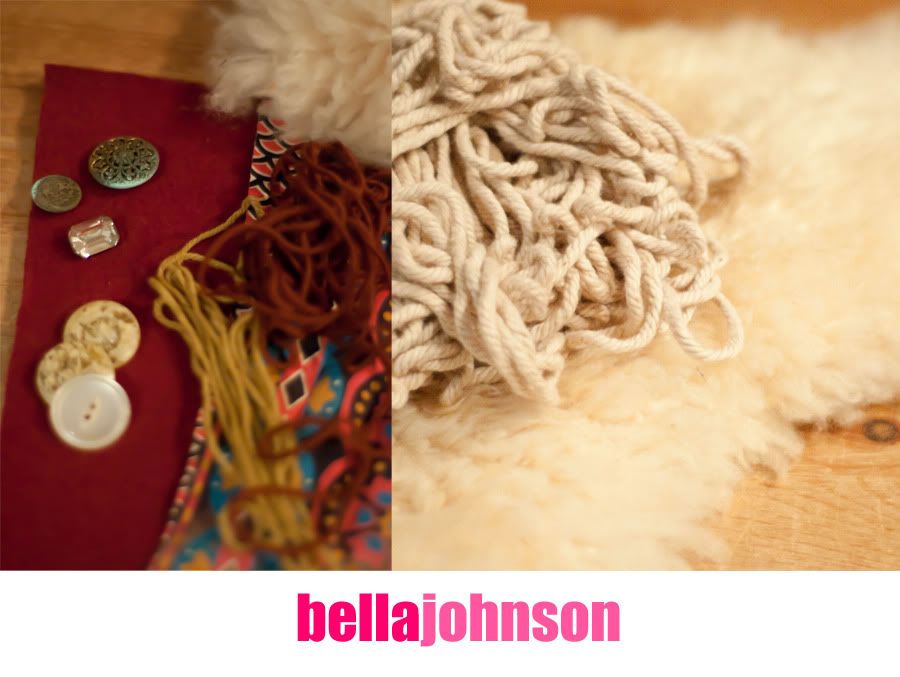 2) Then I did the super easy
Blanket Stitch
around the rim in coral yarn to match a color in the pattern...
if you're not sure how to do the blanket stitch,
just google it
, you should def be okay!
Here's my little HOW TO in picture form! haha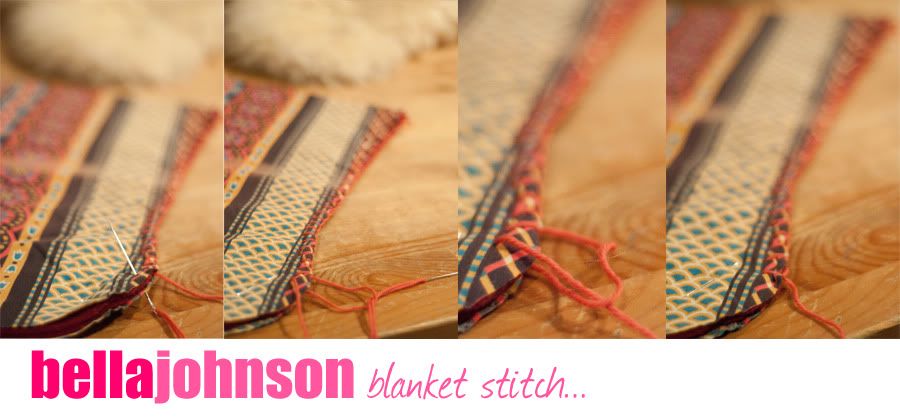 Should look something like this when you're done/in the processes of completing...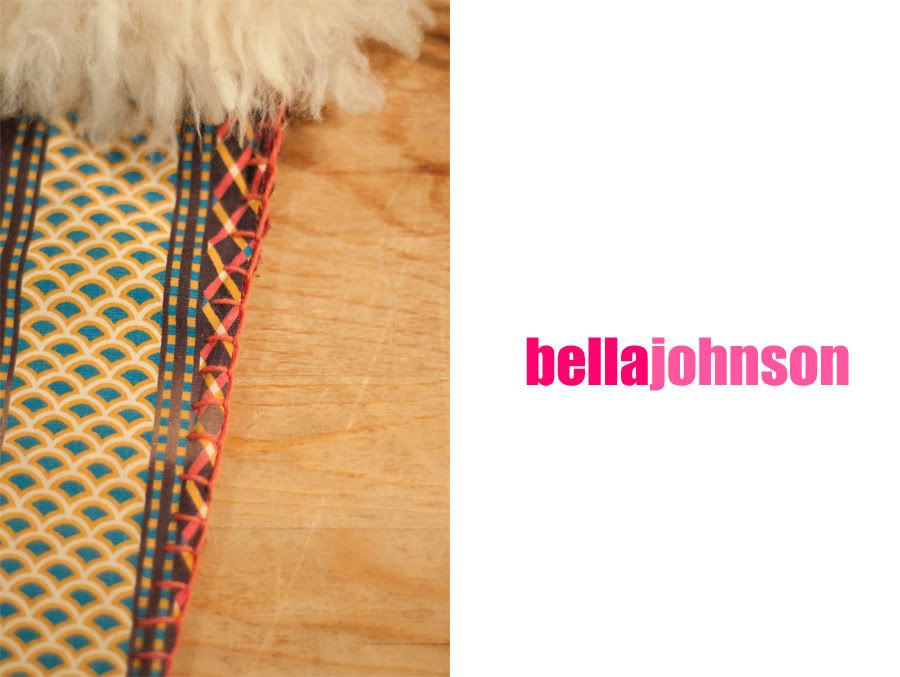 3) Make hanger and fasten on in the inside corner of where you'd like it to drape from.
4) Cut out sheepskin strips and sow on, reinforce with a glue gun if you want to! I sowed everything because I didn't want to rely just on glue to keep it together. I want her to have it for years...
I chose real sheepskin that I found in my grandmother's sewing room. Obviously been sitting there a while and she openly gave it to me. I love the look of real and I know it will keep that look with some love and care through the years.
Honestly, I'm not sure on how to get "real" stuff other than Ikea and I was just there today and it was $39.95 for a small rug that you probably wouldn't want to chop up. I got my big rug that i have from Winners, it was a bargain at $40 but I'm really no help in that department... I'll then vouch for some fakey from the fabric store! Which is what I thought I would have had to do before I raided my grandmother's room.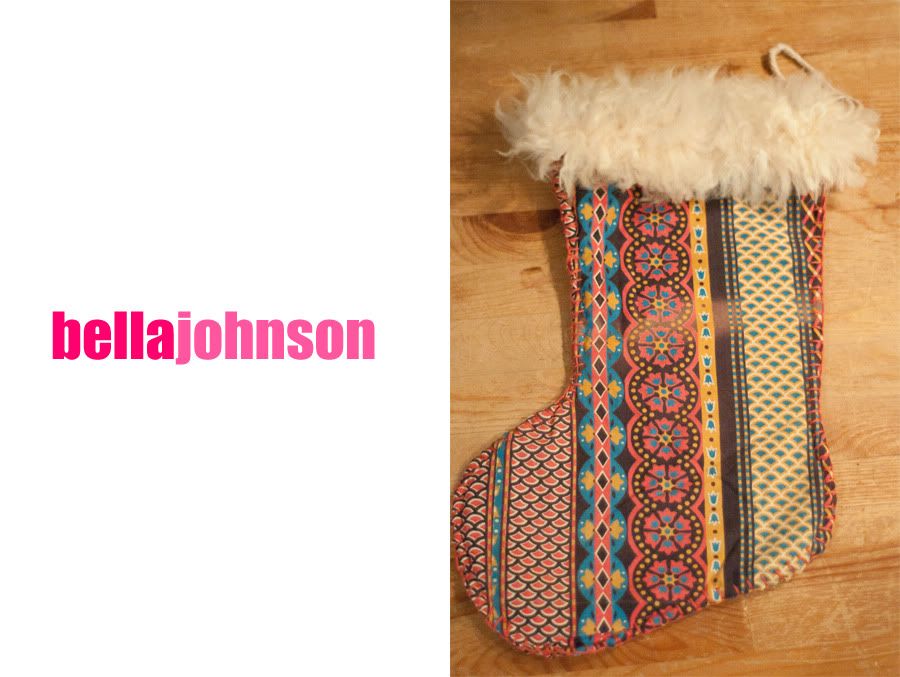 5) Personalize! With either initials or buttons. I haven't done that yet since me and my husband couldn't agree, but I will be sowing on a "J" and adding vintage buttons. I'd also recommend embroidering a date in it :)
This was all hand sown and made, I'm sure you could use a sowing machine but that's too much of a headache for me, I'd rather take the time and sow it, then I know I'm not busting a needle... haha!
I hope your Christmas Crafts are exciting and Merry!
<3 Bella.
PS!
Sorry I haven't blogged much we have house guests and I've been decorating...Here's a photo from my Christmas Village, in case you didn't already think I'm nuts...